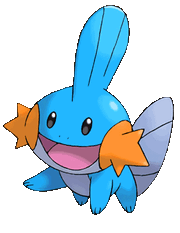 A Starter pokemon own by Titi.
Personality:
Edit
Titi's Mudkip is very active, and cheerful, it won't give up until it succeeds. Mudkip is he's Main pokemon he has.
Level 1 | 41 PPEdit
HP 50 | Attack 70 | Defense 50 | Special Atk 50 | Special Def 50 | Speed 40Edit
Tackle | Accuracy 100% | Type: Normal | PhysicalEdit
Growl | Accuracy 100% | Type: Normal | StatusEdit
Ad blocker interference detected!
Wikia is a free-to-use site that makes money from advertising. We have a modified experience for viewers using ad blockers

Wikia is not accessible if you've made further modifications. Remove the custom ad blocker rule(s) and the page will load as expected.